Who doesn't love a good deal? At IT&E you can get some great discounts on your mobile plan on top of affordable data plans and rates.  
Staying connected is a must these days, and these 5 ways to save on your mobile plan using IT&E discounts that you might be eligible for will get you the best price on quality service and products.
Use your school ID
Getting an education is a priority and getting the needed supplies, books and technology can get pretty expensive, whether you're a student or teacher and whether you're attending in-person or online classes.
Take some of the load off of school expenses with the Student/Teacher Discount.
Students and teachers in all grade levels and schools, including private schools and post-secondary institutions enjoy 10% off any monthly postpaid plan, including the Unlimited Data Plan, 30GB Data Plan and 8GB Data Plan.
To get this discount all you have to do is have your school ID ready when you sign up. If you don't have a school ID, you can provide other documents that prove you go to school, like a class schedule and enrollment documents; or are a teacher, like a recent pay stub or other proof of employment.
For an additional $5 a month you can also enjoy unlimited access to select online learning platforms via your mobile phone or data hotspot. Use the following apps without using any data from your plan's data bucket:
Blackboard Learn
Blackboard Ultra
G Suite for Education, including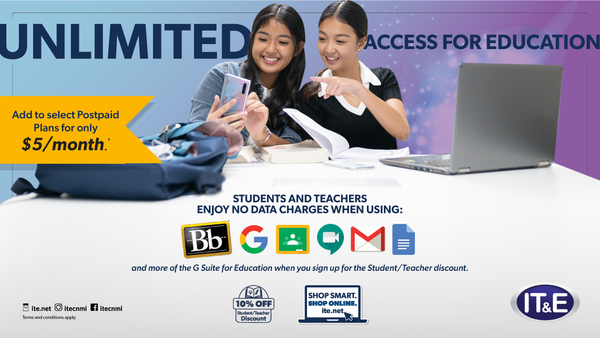 Be proud of your military service
Staying connected to loved ones around the world can be a challenge. It's crucial to be able to video-call family members and catch up with friends on social media.
Staying in touch is easier with a Military Discount of 15% off your monthly payment on the Unlimited Data Plan and 10GB Data Plan. Military dependents and veterans can also enjoy this discount, which can be applied to as many as two lines per account.
To sign up all you have to do is provide a valid military or veteran ID when you sign up for your plan.
Thank you for your service!
Let us know if you're first responder
If you are a medical doctor, nurse, medical assistant or Emergency Medical Technician, or a member of the fire department, Emergency Medical Services, police department or homeland security, you can get 15% off your monthly payment on the Unlimited Data Plan or 30GB Data Plan.
To sign up, provide the ID issued by your organization or other proof of employment, such as a check stub.
First responders keep the community safe and healthy all year around. Thank you for all you do for the community.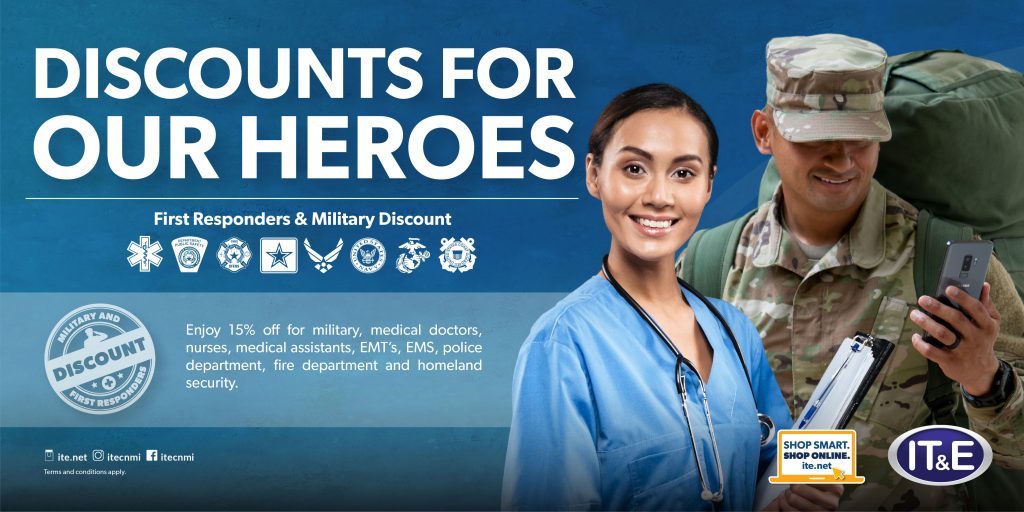 Use this discount code for accessories
A quality set of headphones or earbuds will enhance your experience when you're streaming videos or gaming on your phone. If your phone is capable of wireless charging, you will love the convenience of simply placing your phone down on the charger.
Get 10% off these accessories, phone cases and more from top brands when you use promo code SAVE10 in the Accessories Shop.
If you're not looking for yourself, accessories are a gift anyone will enjoy.
Keep an eye out for promos
It bears repeating: everyone loves a good deal.
Check back regularly or follow IT&E on social media to get a lead on limited-time offers.
Be the first to get the latest updates on postpaid and prepaid promos, sales and official contests by following IT&E Guam and CNMI on social media. We're on Facebook, Instagram, Twitter and TikTok!
You can also check out the IT&E homepage and online store every month for promotions on phones and postpaid plans; or chat with a customer service representative online [link to online contact us page] to ask about any ongoing promos.
Remember, you can also purchase phones and sign up for a plan online. So, if you find a good offer, grab it quick!
IT&E's offerings are very much affordable, but an extra discount on your IT&E mobile plan in Guam and the CNMI can lower the cost of purchases and services and leave with a little extra in your pocket. It's a win-win situation!