Refer your friends and everyone gets a good deal
Have you been loving the service at IT&E? Don't keep it to yourself! Refer your friends to IT&E and get deals for both you and them.
For a limited time only, your friends get BONUS DATA on their Postpaid Plan for their first 2 months or a credit on their Home Internet plan with your referral. Plus, they'll enjoy huge value, world-class service, and more benefits at IT&E
Meanwhile, you'll get a credit on your monthly payment for every friend that activates a new account.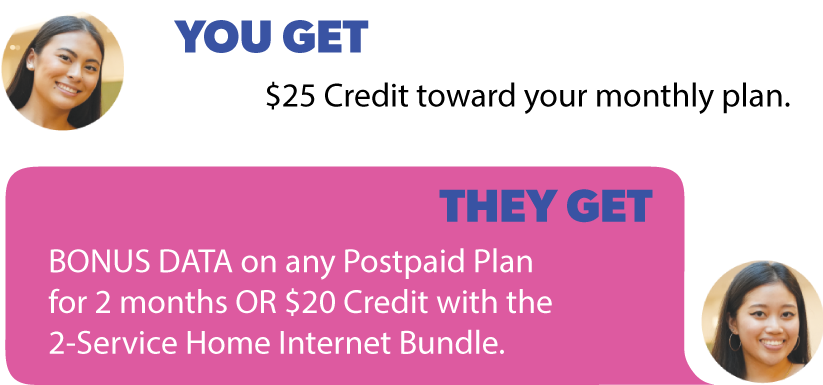 For you: a $25 credit
Your endorsement means the world to us. As a thank you, we'll give you a $25 credit on your account for every referred friend that activates a new account using your unique referral code. The more friends you refer, the more credits you'll get.
The credit will be applied to your account once your friends make their first monthly payment. So, start planning how you'll treat yourself with those extra savings!
For them: BONUS DATA or a $20 credit on their Internet bill
They'll get BONUS DATA for their first 2 months when they sign up on ANY Postpaid Plan:
10GB Plans will be bumped up to 12 GB of data with the standard unlimited access to select social media apps, including Facebook, Messenger, Instagram, WhatsApp, TikTok, Spotify, Twitter, and more, all for just $35 a month.
30GB Plans will be increased to 40 GB mobile data and 10 GB of data for Hotspot with standard unlimited access to select social media apps, including Facebook, Messenger, Instagram, WhatsApp, TikTok, Spotify, Twitter, and more, all for just $55 a month.
Unlimited Plans will now get Unlimited Hotspot, at no additional cost to you.
If they sign up for a BEAM Home Internet-only plan on Guam or a 2-Service Home Internet Bundle in the CNMI instead, they will get a $20 credit on their first monthly payment.
To get this deal, they must activate a new account.
Now you, your friends, and your loved ones can game, stream, and stay connected on the most reliable network in Guam and the Marianas.
Refer now!
Don't wait to tell your friends about IT&E. This offer won't last long!
Here's how to refer friend and get this deal:
Step 1 –  Register to the Refer-a-Friend Program at http://refer.ite.net/. From there, you'll get a unique referral code that you can share with friends.
Step 2 – Send the code to your friends. Remember – there's no limit to how many people you can refer.
Step 3 – Referred friends then activate their new account at IT&E and present the referral code to the Customer Service Representative in-store or upon check on ite.net.
We can't wait to be a part of delivering connections that matter to your entire circle.
FREQUENTLY ASKED QUESTIONS
WHO CAN AVAIL OF THIS PROMOTION?
Any customer can avail of this promotion if they are an existing customer who is referring NEW customers to create a NEW account with active services or if you are referred by an existing IT&E customer and are creating a new account.
CAN I REFER SOMEONE WHO HAS AN EXISTING IT&E ACCOUNT, BUT IS ACTIVATING A NEW SERVICE UNDER THAT ACCOUNT?
No. Customers who have an existing account, may only refer NON-IT&E subscribers to sign up for service. They may not get the referral offer if they are adding new lines to an existing account.
CAN I REFER SOMEONE IF THEY ARE RENEWING THEIR IT&E SERVICE NUMBER?
No. Customers may only be referred if they are activating new services under a NEW account.
IF I GET REFERRED, BUT WANT TO ACTIVATE SERVICES USING MY OWN DEVICE, CAN I STILL AVAIL OF THIS OFFER?
Yes. This offer is also valid to customers who are referred and who are using their own devices to activate services under a NEW IT&E account.
IS A CONTRACT REQUIRED TO AVAIL OF THIS PROMOTION?
No. A contract is not required to avail of this offer.
HOW CAN EXISTING IT&E SUBSCRIBERS AVAIL OF THIS OFFER?
Existing subscribers can start referring their friends and family to save at IT&E by registering to get their unique referral code at refer.ite.net. Once customers have their unique referral code, they can start referring as many people as they want!
IS THERE A LIMIT TO HOW MANY PEOPLE I CAN REFER?
No. Customers can refer as many people as they want. However, conditions apply for both the referee and the referred.
WILL THE ADDITIONAL DATA OFFER FOR CUSTOMERS THAT ARE REFERRED BE FOR THEIR WHOLE CONTRACT TERM?
No. The additional data for this offer will only apply for the first 2 months after customers activate their services. After that point, standard data buckets rates will apply.
CAN ONE ACCOUNT HAVE MULTIPLE REFERRAL CODES?
Yes. Referral codes are linked to service numbers, and it is possible for one account to have multiple referral codes. However, any credits applied to an account because of any one referral code, is applied directly to the balance of the entire account. We cannot apply a credit to any one number.
WHEN CAN REFERRAL CODES BE REDEEMED?
Referral codes are only able to be redeemed at the time the referred customer creates their new account and activates their first service line. If the customer opens an account to add a new service line and comes back at a different time to avail of the Referral offer, they will NOT be eligible to redeem the code.
WILL CUSTOMERS WHO REFERRED THEIR FRIENDS AND FAMILY GET THEIR ACCOUNT CREDITS RIGHT AWAY?
No. The account credit for customers who refer others to activate new services under a new account will only be credited to the customer's account in the following billing period IF the customer they referred makes their first complete bill payment on time.
DO CUSTOMERS NEED A NEW REFERRAL CODE EVERYTIME THEY REFER SOMEONE?
No. Customers will get one unique referral code, that they can share with however many people they want.