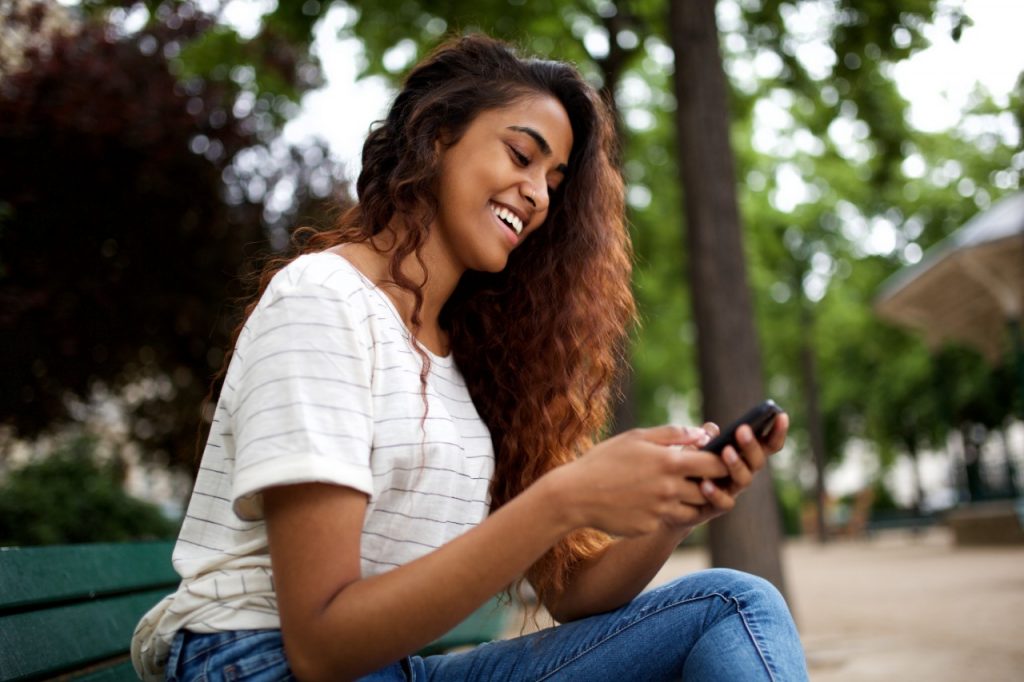 Choosing the best wireless service provider for your cell phone in Guam and the CNMI is important. You want to stay connected to family and friends and stay in touch with what's going on in the world. At the same time, you want to choose a provider that will give you the most for your money. IT&E offers great value, excellent customer service, and rewards you'll love.
Great value for your cell phone in Guam and the CNMI
Your phone and phone plan are necessities, like any other utility. But at IT&E, you have options for how much you pay. With IT&E's standard postpaid plans you'll get UNLIMITED access to these social media apps: Facebook, Messenger, Instagram, WhatsApp, TikTok, Twitter, Spotify, KakaoTalk and WeChat. When you use these apps, you won't be using from your data bucket!
Plans start at only $35 a month for 8 GB of data – a good amount for staying connected, gaming, streaming videos, and browsing the internet. Then there's the 30 GB of data for $55 a month – perfect if you plan to watch more YouTube. with the 30 GB plan, you'll also get an additional 10 GB for hotspot so you can share your data with loved ones. Every postpaid plan includes unlimited local talk and text, so you'll always stay connected to who and what matters most.
For the pro data users, Unlimited Data is available for $80 a month. You can even add loved ones to your Unlimited Plan for just $55 a month each. Add as many as 2 lines to your account.
Whichever plan you choose, you can be confident you'll be getting quality wireless service and coverage.
On top of these plans, IT&E has affordable add-ons, like unlimited calls to the U.S., Mobile Passport for using your data abroad when you're able to travel, and discounts for special groups.
One word: discounts
Did you know that you can get discounts just by showing us your school ID? Yes, you can with the Student/Teacher discount! This discount is available for both students and teachers at any grade level or school, including, university, college and private school. On top of a 10% discount on your monthly plan. Simply present proof of your enrollment or employment at your school.
Plus, for just $5 more a month, you can add on the Distance Learning Program and enjoy no data charges when you use select educational apps including Blackboard Learn, Blackboard Ultra and G Suite for Education apps like Google Classroom, Gmail, Drive, Docs, Sheets, Slides, Sites, Calendar, Meet, Duo, Hangouts and Chat.
Serving the community deserves to be recognized. That's Military and First Responders get discounts! Military servicemembers can choose between 10% off select monthly plans or FREE long-distance calls to the U.S. First Responders get 10% off select monthly plans. Veterans and military dependents are also eligible for this discount. First responders eligible for this discount are medical doctors, nurses, medical assistants, fire department workers, police department workers, EMTs, EMS workers, and Homeland Security workers. Simply present proof of your military service or employment at your organization.
If you happen not to be a student, teacher, military servicemember, or first responder, there are still discounts available to you through our regular promotions and offers. Be sure to follow us on Facebook, Instagram, Twitter, LinkedIn and Tiktok or visit our website regularly to see what exciting new offer is available!
Services available 24/7
Your convenience is always a priority. That's why many IT&E services are available online all day, every day so you can get help right away from any location.
Have questions? Chat online with a customer service representative. If you prefer a friendly voice, call our Customer Care Center at (671) 922-4483 [Guam] or (67) 682-4483 [CNMI].
Shop and activate a new plan whenever you want when you visit our online store. Check out the accessories and latest phones.  Plus, enjoy same day pick-up or you may be eligible for free delivery!
Online billing is available for you to pay your bill, see past statements, set up automatic payments, add payment methods, and sign up for paperless billing from the convenience and safety of your own home. You can also keep track of your data usage.
A loyalty program that rewards you
For each dollar you spend on your monthly bill, get it back with rewards when you join the PACIFICPOINTS loyalty program.  Earn points at IT&E and its sister companies, Shell and Foody's, that can be redeemed for  rebates on your IT&E bill, free fuel at Shell and free items at Foody's.  Or convert your points to United MileagePlus!
Earn 2 points for every dollar on a wireless plan on a 12- or 24-month agreement; 1 point for every dollar on a month-to-month wireless plan; 2 points for every dollar on a 3-Service Internet Bundle (CNMI only); and 1 point for every dollar on a 2-Service Internet Bundle (CNMI only).  Plus, you can earn 1 point for every $1 spent at all Shell Stations (Guam and CNMI) and Foody's Branches (Guam).
Learn more about PACIFICPOINTS and how to upgrade to elite tiers here.
Excellent customer service
Of all the reasons to choose IT&E, the excellent customer service you'll experience is what makes this service provider the best for your cell phone in Guam and the CNMI. IT&E cares about you and getting you the help you need. Whether you reach out online or by phone or visit a store, you can be confident that the Customer Service Representatives will take care of you.
Here's what some customers have said:



Visit us today to sign up for your cell phone plan in Guam and the CNMI!
You have a lot going on in your life. The last thing you need to worry about is your phone plan and service. IT&E will take care of you, give you the best plans at affordable rates and provide you with reliable coverage. Visit the IT&E online store  or any location today and start your journey with the best service provider for your cell phone in Guam and CNMI!