IT&E offers the best prepaid service in Guam and the CNMI, serving you great value and excellent customer service. Plus, you can earn FREE load and other rewards by simply being a loyal subscriber. Whether you want to save money, you enjoy being contract free, or are just visiting Guam for a short time, you'll find products and services to meet your needs.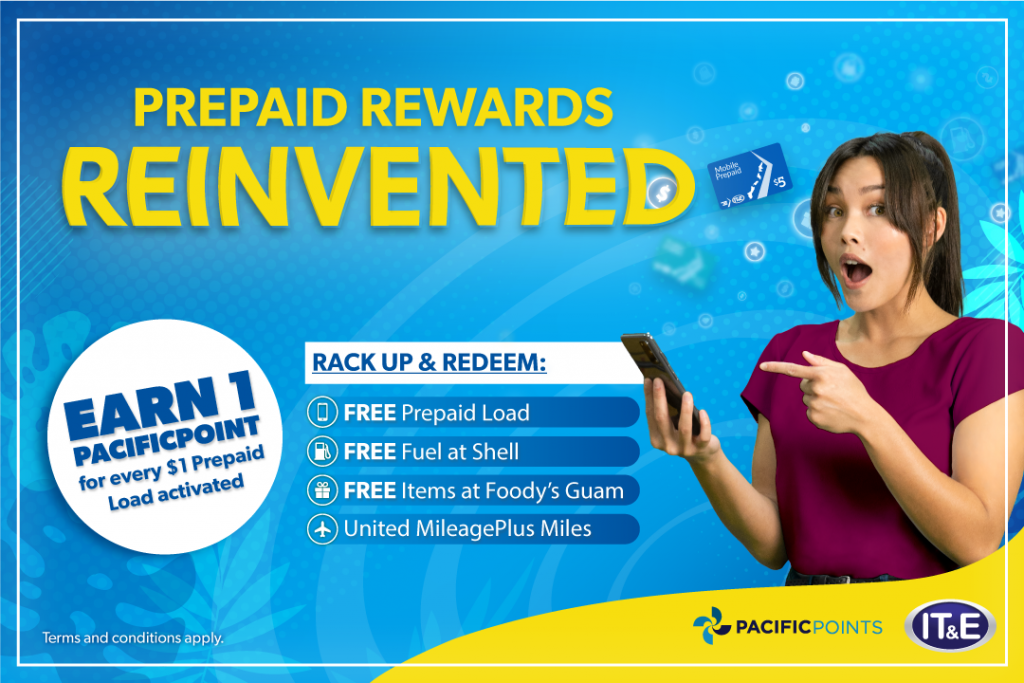 Great value for prepaid service in Guam and the CNMI
Prepaid is a fantastic way to save money and stay connected. At IT&E, you can choose how and when you want to save with affordable Daily Prepaid Plans and Pay-as-you-go rates that give you flexibility. 
Daily prepaid plans are designed for days when you're expecting a lot of calls or plan to browse the internet. You can choose from options like unlimited data and unlimited calls to the US. Since daily prepaid plans renew every day, you can cancel any time. 
Or you can opt to pay as you go when you don't plan to use your phone much, but still want to be reachable. Send text messages to Guam, the CNMI, and the Philippines for mere pennies per message. You can even send text messages to the U.S. for only 10 cents each. Calls in Guam and the CNMI are only 20 cents per minute.  
In addition, subscribers can share load with loved ones in Guam, the CNMI, and the Philippines by simply sending a text message.  
Load can be sent to Guam and CNMI subscribers in denominations of $1, $5, $10, $15 and $20 and to Globe and Smart subscribers in the Philippines in denominations of $1.50, $4.50, $9 and $15.  
Postpaid subscribers can send load to a prepaid subscriber, too. For prepaid subscribers, the amount will be deducted from their load balance. For postpaid subscribers, the amount will appear on their next billing statement. Read more about sharing load here.
Best prepaid
 service while 
visiting Guam and 
CNMI
Just visiting for a few days?  The Hafa Adai SIM Kit is designed for maximum savings so you can share your adventures on your social feed, make long distance calls to anywhere in the world, and call or text local friends, family or businesses.   
Simply insert the SIM into your phone and you're ready to enjoy your stay in Guam and the CNMI!  
Services available 24/7 
Your convenience is always a priority. That's why many IT&E services are available online all day, every day so you can get help right away from any location.  
Have questions? Chat online with a customer service representative 24/7. If you prefer a friendly voice, call our Customer Care Center at (671) 922-4483 [Guam] or (670) 682-4483 [CNMI].  
Buy load anytime and anywhere in the online store. Or drop by participating Shell locations, convenience stores and 76/Circle K locations (Guam only), or any of our stores to purchase a prepaid load card.  
Shop whenever you want when you visit our online store. Check out the accessories and latest phones. Plus, enjoy same–day pick-up or you may be eligible for free delivery!  
A loyalty program that gives you FREE prepaid load and other rewards 
Turn your prepaid load and other everyday purchases into rewards with PACIFICPOINTS!  
You can earn and redeem points for rewards in more places. You can redeem these points for FREE load, as well as for discounts on fuel at Shell, vouchers at Foody's Guam, and United MileagePlus Miles. You can even use your PACIFICPOINTS to purchase handsets or accessories at IT&E! 
Not only can you earn points when you activate load on your phone, you'll also earn points when you purchase fuel at Shell in Guam and the CNMI or items at Foody's Guam.  
Sign up for PACIFICPOINTS for free or learn more at pacificpoints.com or by downloading the free mobile app from Google Play or The App Store.  
Excellent
 customer service
IT&E cares about you and getting you the help you need. Whether you reach out online or by phone or visit a store, you can be confident that the Customer Service Representatives will take care of you.  
Here's what some customers have said: 



Choose IT&E 
today! 
Visit the IT&E online store (store.ite.net) or any location today and start your journey with the prepaid service in Guam and the CNMI!  
Don't forget to follow us on social media, subscribe to our YouTube Chanel (https://www.youtube.com/user/ITEtelevision/featured), and subscribe to our Newsroom (ite.pr.co) for the latest news, promotions and special offers!