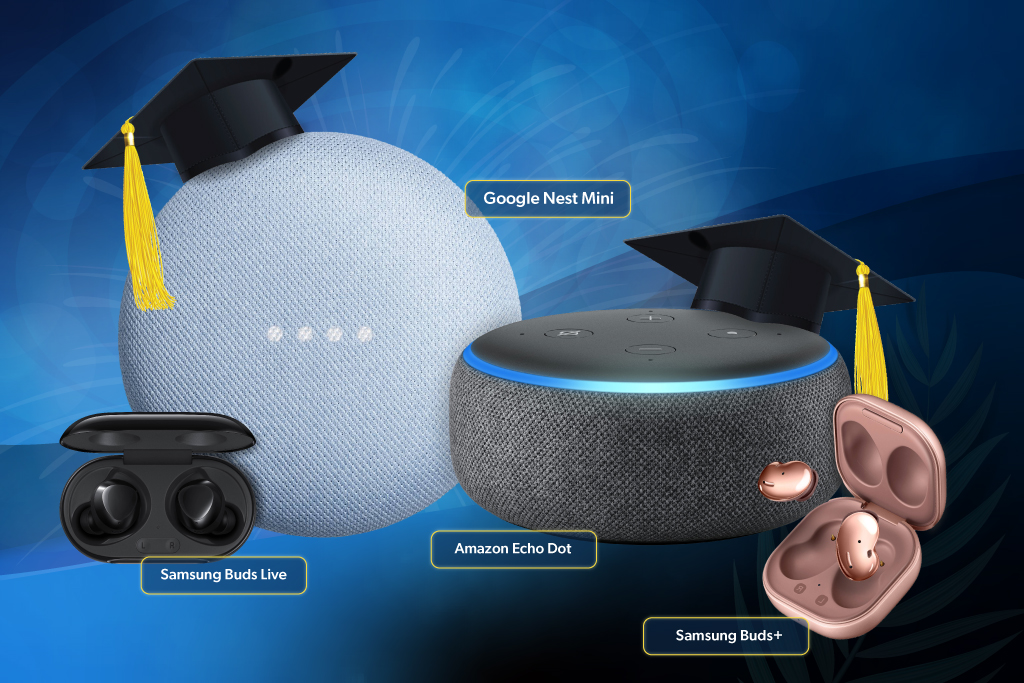 After years of hard work, graduation is finally here!  Show the grad in your life how proud you are by rewarding them with a tech gift they'll love. The Samsung Galaxy Buds+, Samsung Galaxy Buds Live, Google Nest Mini, or Amazon Echo, will awe and amaze, but are also useful for starting the next chapter of their life. 
Get your grad an assistant.
Whether your grad has plans to go back to school in the fall semester or get experience out in the real world, a smart speaker equipped with a virtual assistant will help keep them organized and on top of tasks, as well as provide quality sound for music and video.  
Choose between Alexa on the Amazon Echo Dot or Google with the Google Nest Mini.
Activate the virtual assistant by saying its name, then simply ask it to remind you about a job interview or assignment deadline, play music, set timers, define a new word, and more.  
In addition, smart speakers can connect to compatible devices in your home, like smart plugs, lights, and security systems, so that you can control them by simply giving the virtual assistant instructions.  
Accessories that keep on giving after graduation.
For the grad that needs to focus, wireless ear buds like the Samsung Galaxy Buds+  or Galaxy Buds Live  are the prefect accessory.  
Both earbuds offer studio-quality sound by AKG, perfect for listening to an online lecture or study music. They're equipped with Active Noise Cancellation that blocks out distracting background noises. Users can quickly control the volume and pause, skip, or rewind content by simply tapping the buds, making it a perfect hands-free tool. 
Plus, during down time, wireless earbuds provide an immersive experience when watching videos and listening to music – because everyone needs a break now and then!  
Equipped with a charging case, these wireless earbuds provide hours upon hours of listening and talk time.  
Tech gifts are fun, but also very practical gifts that show your loved ones how much you care.  
Visit the IT&E Online store to see which accessories are available for pick-up near you.