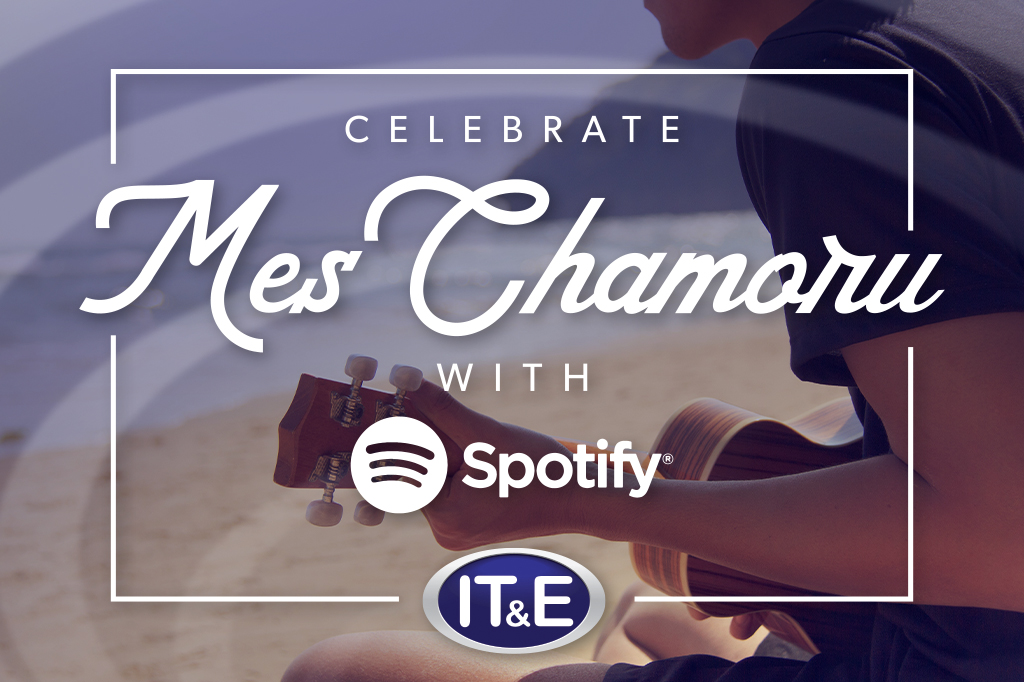 From local classics to modern twists, these bops will make you say "Biba!"
BY CIANNA YANGER
March rings in Guam History and Chamoru Heritage Month, better known as Mes Chamoru! What better way to kick off the celebration than with some music? With IT&E's value-packed data-plans, you can stream local favorites all month long on Spotify without using up your data bucket.
Whether you're driving around island, spending time with Nana and Tata, or just feeling the island spirit, IT&E and Spotify have you covered.
Here's a list to get you started:
1. Da Udda Band
Bringing feel good island/alternative to the fiesta table, D.U.B. brings local favorites in both English and Chamoru like "Try Again" and "Guinifi Hu."
Kick off Mes Chamoru with music to make your body move and groove!
2. Joe Guam
Feeling Mahålang?
Joe Guam's local flair can help you feel at home and make you "Proud to Be a Guamanian."
3. Baba B
Baba B delivers love and island pride with his song "Guam Life" with tongue-in-cheek lyrics and smooth sounds.
4. Johnny Sablan
Craving some classics?
Familiar songs like "Nobia Nene", "Hu Guaiya Hao", and many more are now available on Spotify to stream!
5. Walter Manglona
Manglona brings classic island sounds like "Hagu Ha'" as well as R&B offerings like "Chamorro Superman" and "Mahalang."
6. Local Deluxe
A Guam-based band that aims to rock your socks back on, Local Deluxe brings a pop punk/emo flair to the Guam music scene and lays down some "Common Ground" with jams like "Enough", "New Face" and "Speak Up."
7. The John Dank Show
Whether you're Living in a Dream or caught up in the Current of love, The John Dank Show makes it "EZ4U" to celebrate Mes Chamoru!
Fun fact: TJDS made an original piece back in 2018 for IT&E called Explore Your World! Wherever you are, explore your world with IT&E!
8. JD Crutch
With throwbacks like "Bente Uno Yo' Gi Presu", "Nanan Mami" and more, these JD Crutch classics are available to stream now!
9. Joe Garrido
Bring that "Fiesta" feeling into your life with Joe Garrido!
Garrido's songs are bound to make you baila, baila, baila all month long!
10. Friends With Instruments
Friends with Instruments is a Guam-based all-girl acoustic trio with an island pop fusion vibe that seeks to share their music, promote the arts, and change the world…one song at a time.
Live "The Gud Life" and Biba Famalo'an!
This list is by no means exhaustive – there are plenty of local artists, albums, and songs for you to curate the perfect playlist to help you celebrate. Whether you're looking to chill or need your fill of fiesta jams, IT&E's got you covered with unlimited access to Spotify. Remember to use our promo code SAVE10 upon checkout to save 10% on accessories like headphones and speakers to help you jam all month long!
Have fun, stay safe, and Biba Mes Chamoru!